HAPPY NEW YEAR, QUEEN!
You made it! ???????????? ✨ ✨ ✨
I know your inbox and timelines are flooded with 'New Year, New You' messages and if that motivates you, dive in FULLY.
However, I've heard from so many (and I even felt this creeping in for myself), the impending 'New Year' felt like pressure.
In place of motivation — a feeling of dread, anxiety, and failure, already!
That is NOT a powerful place for you to come from, sis, so let's straighten that out right now.
Instead of The First Of January being The First Day Of The Rest Of Your Life. Why not use the month of January to Ease In.
You don't have to have it done, figured out, and dialed in by TODAY.
Instead, all the things you're dreaming up, feeling into, and visioning, that's what January is for.
Use this month as an opportunity to Ease In to 2021.
If 2020 taught us anything it's that we need to care for ourselves deeply. No more beating yourself up, overbooking yourself, and running a 'I'm not good enough' tape in your head.
The world needs you at your best.
We need you rested, nourished, optimistic and powHERful!
Deal?
So what will you do differently now that you're giving yourself permission to Ease In?
Respond to this email and let me know.
I can't wait to hear how you're shifting and what you're Visioning for the New Year!
Here in your corner,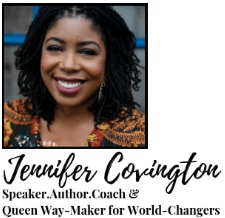 P.S. Does the idea of 'Easing In' make you panic because you have SO much to do and so much you want to accomplish? Don't worry, I've got your back! I created the 90 Day Jumpstart Business Bundle with you in mind. These series of live workshops are designed to help you plan your year powerfully and intentionally. You can read all the details here, but in short, we'll be working on your profitability and aligning your business with your super powers. You don't have to go this path alone and for the next 90 days I'm fully prepared to help you ensure this year is your most profitable and enjoyable one YET! You can say 'yes' to your dreams, prosperity, and success, HERE. Looking forward to supporting you along your journey!